Dave over at http://www.northsiderdave.blogspot.co.uk/
asked whether Mr CT, my esteemed husband and brewer of all things beery, might be persuaded to do a Guest Post on Countryside Tales explaining how he makes the stuff.
This is Boy Alchemy as far as I'm concerned and I venture no further into the Mysterious Arts of home-brewing than to drink the end results, and Very Drinkable they are too.
We (that's the Royal "we") have had some Famous Disasters along the way. The entire house had to be fumigated for several hours on one bloody irritating memorable occasion when the fish swim bladders that get added to the beer under the general heading of Alchemy were discovered to be off only after they had been opened (and my God did they stink). To be honest, you really wouldn't want to be anywhere near my kitchen when even the non-off Fish Bladders are being added. On the whole, it all works rather well and it keeps him busy, which is the main thing.
So, without further-ado, here, in a break with tradition and a first for Countryside Tales, is me handing the reins of my beloved blog over to my husband......
Hi Folks, Mr CT here taking over my wife's blog for the afternoon to regale you all with a tutorial on How To Make Beer....
I started making beer with my dad when I was a teenager (we also experimented with a variety of hedgerow wines, with varying results, but they generally propelled you directly to a hangover without passing Go). Having a supply of homebrew as a teenager felt a rather thrilling and manly thing to do.
Fast-forward thirty years or so and I was prompted by the urge to have another go. Even better, I have my own shed to store the stuff and it still feels thrilling and manly.
First things first. Beer is very simple stuff. It's made form barley, hops, yeast and water. The enzymes in the yeast convert the sugar in the barley malt to ethanol. Breweries start the brewing process by germinating barley grains, which transforms the starch into maltose, then roasting and mashing the grains to extract the malt. Hops are added purely for flavour. In practice, I don't have the time or the set-up to do any of this, so I take the easy route and buy a beer kit.
Back in the 80s there were very few homebrew brands (the ones I remember are Tom Caxton and Boots), but now there is a vast array of them. I have experimented with a few and tend to get the best results from kits made by Better Brew.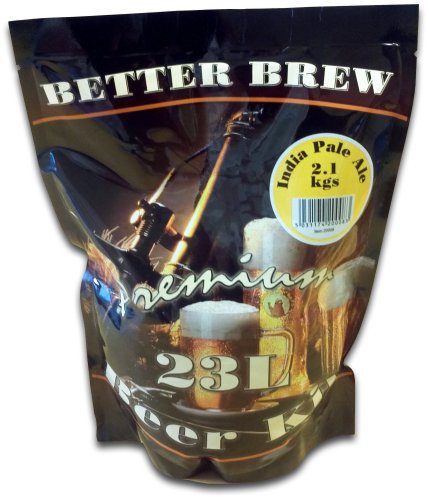 This is a pre-prepared concentrate of malt and hops, with a separate sachet of yeast. You need to add a kilo of extra sugar to this - I find that spray-dried malt gives the best quality.
Homebrewing happens in three stages:
Fermenting
1. Sterilise all the kit.
2. Boil some water and stir it together with the malt and sugar in your fermenting bin.
3. Add more water till the bin is full (the standard brewing volume is 23 litres (40 pints)).
4. Check the temperature- if it's between 20 and 25 degrees then sprinkle in the yeast.
5. Leave for 10 days or so while the yeast gets to work on the sugar.
It needs to be kept at the right temperature- I use a thermostatic fish tank heater which does the job nicely.
Kegging
1. This step is optional but I heartily recommend it because it means that you can minimise yeast sediment in the bottles.
2. Lift the fermenting bin onto a worktop (plenty of grunting required here) and siphon it into the keg (this is for the secondary fermentation process which will give the beer its fizz).
3. Leave in a warmish place for another ten days or so to finish this stage (mine goes next to the airing cupboard).
After that the keg gets taken off to the shed and left well alone for a month or so to clear. If it's slow to clear then you need to add isinglass paste. Isinglass is mashed up fish swim-bladders, and I love to imagine the serendipitous accident that led to the wonderful discovery that they can clear cloudy beer. Isinglass smells awful but thankfully it doesn't linger in the beer.
Bottling
This is the most involved stage.
1. Carefully clean and sterilise all your bottles.
2. Tap the beer into a jug and then fill up the bottles- it takes a while and can be a bit messy but is a great job for the shed on a summer's day with the radio on. We collect empties from friends who get rewarded with a full bottle in return.
3. Apply bottle caps with a special crimping machine (very satisfying, this bit) and bingo - you're done.
I've had one or two duff batches on the way and this has taught me that you really need to make sure that your keg is good and secure. Keep the pressure valve greased otherwise is goes flat and the quality rapidly goes off. Also, you need to start the brewing process straight away once you've got everything mixed in the fermenting bin otherwise it will turn to vinegar....vinegar (ethanoic acid) is just oxidised alcohol (ethanol). I fell foul of this when my thermostatic heater bust and I didn't realise till it was too late.
That's it! It's a lot of fun and it's really not very hard to get surprisingly tasty results.
Kits are available online, or you might be lucky and have a local beer shop who'll be able to supply you with everything you need to get started.